Commercial Bank is one of the prominent private banks in Sri Lanka. Commercial bank online payment gateways are popular among merchants and customers. So, we have invented the Woocommerce online payment gateway plugin for your WordPress website.
You can add this plugin on your website for increase your online sales. And also it allows your customers to use their local and international credit, debit cards on your commercial website.
You can simply download the plugin and setup it without any difficulty. Installation will take only few minutes. Contact us if you need to have this plugin on your website. And the most important thing is customers can do their online transaction on the merchant's website without redirecting to different web pages.
Oganro Private Limited is proud to be collaborated with commercial bank PLC to develop and deliver this Woocommerce online payment plugin for WordPress.
1.Install WordPress

2.Ensure you have the latest version of WooCommerce plugin installed

3.If you have already installed this plugin delete it before you add new plugin file.

4.Upload plugin zip file via wordpress admin panel or Unzip and upload contents of the plugin to your /wp-content/plugins/ directory

5.Activate the plugin through the 'Plugins' menu available in WordPress.

6.Enter payment gateway details in woocommerce->settings->checkout->CommercialIPG

7.Make sure to Enable commercial IPG Module in woocommerce checkout tab.
1.

Featured above is the plugin page view containing the commercial Bank IPG option. Make sure to activate this option from the available plugin page.
2.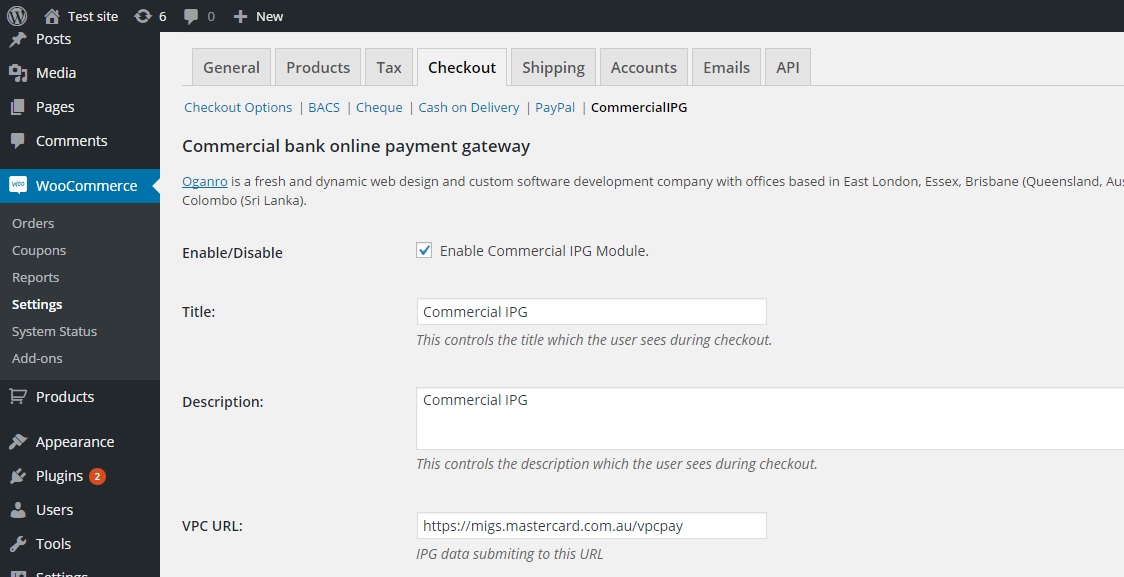 All relevant account information details are set in the above shown panel. Merchant ID, Merchant Access Code and Hash Keys are provided by commercial Bank.
3.

Displayed above are the Checkout Page payment options, inclusive of commercial IPG, offered to users for selection.