This is the Sampath Bank Woocommerce online payment gateway plugin for WordPress. Sampath bank is one of the largest private sector banks in Sri Lanka. So, it is very popular among Sri Lankans.
You can use this plugin on your commercial website. This helps your customers to use debit and credit cards for online transactions without any difficulty. And also this will provide a reliable service for your customers. It will help you to enhance the profit of the business.
This payment gateway accepts international credit cards and different currencies. Users can do their online transactions within the website and no need to redirect for multiple web pages. That is one of the main advantages of this plugin. The entire transaction process has a security mechanism to avoid attacks from hackers and other security hazards.
Sampath online payment gateway plugin is user friendly, can download for free and can setup easily. Because of that, this payment gateway is used by most of the vendors in Sri Lanka.
Oganro is glad to be collaborated with Sampath Bank to develop this e-commerce solution.
1.Install WordPress

2.Ensure you have the latest version of WooCommerce plugin installed

3.If you have already installed this plugin delete it before you add new plugin file.

4.Upload plugin zip file via wordpress admin panel or Unzip and upload contents of the plugin to your /wp-content/plugins/ directory

5.Activate the plugin through the 'Plugins' menu available in WordPress.

6.Enter payment gateway details in woocommerce->settings->checkout->SampathIPG

7.Make sure to Enable commercial IPG Module in woocommerce checkout tab.
Version 2
▪ Updated to work with Sampath Bank latest payment gateway
Version 1
1.

Featured above is the plugin page view containing the Sampah Bank IPG option. Make sure to activate this option from the available plugin page.
2.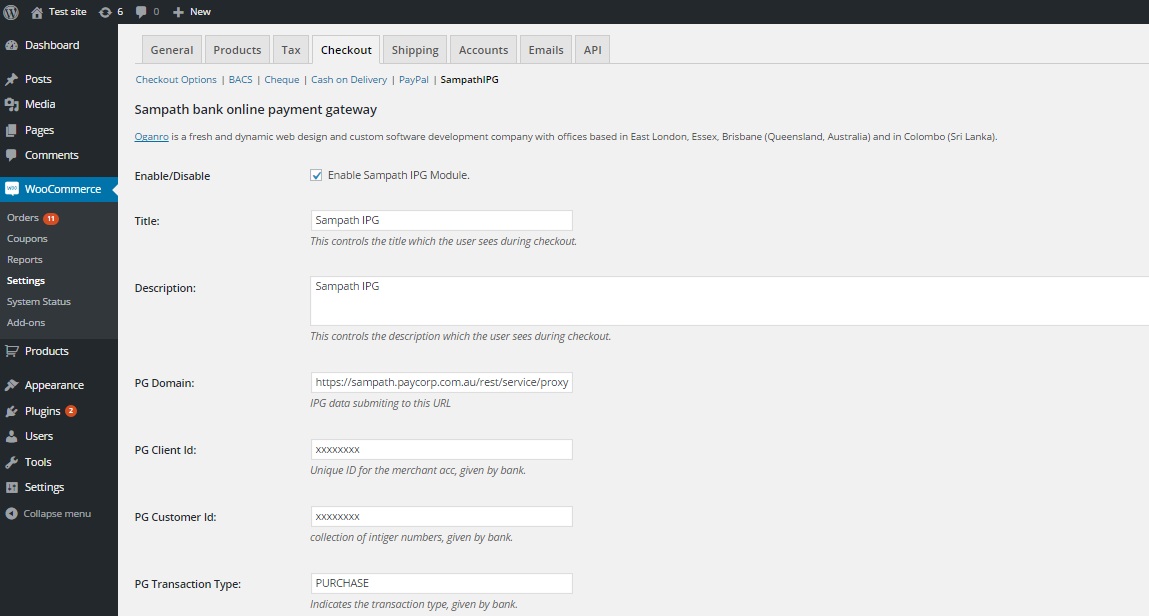 All relevant account information details are set in the above shown panel. Client ID, Customer ID,HMAC Secret and Auth Token are provided by Sampath Bank.
3.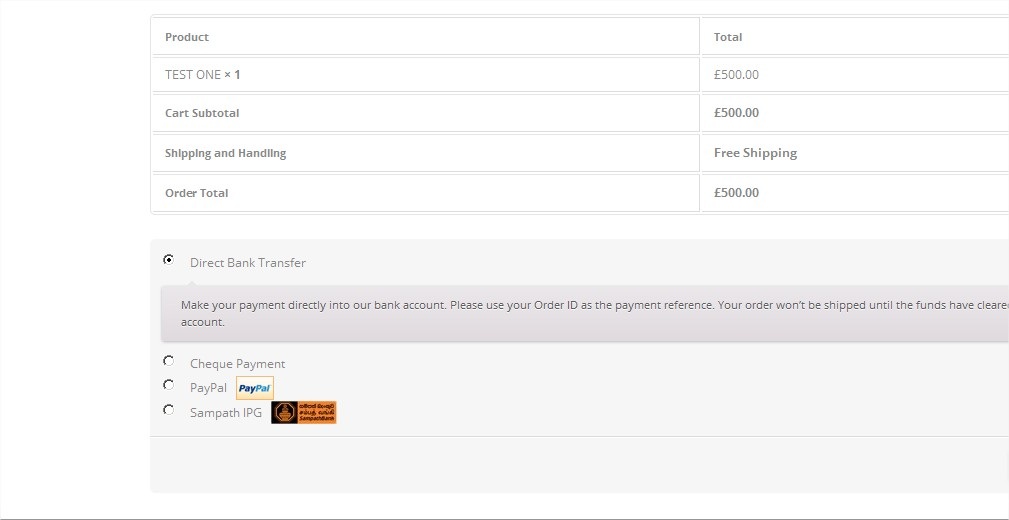 Displayed above are the Checkout Page payment options, inclusive of Sampath IPG, offered to users for selection.