Sampath Vishwa is one of the famous payment methods in Sri Lanka. This is Sampath Vishwa payment gateway plugin for WordPress websites.
Now you can have this payment gateway plugin on your Woo commerce website which makes reliable and user friendly environment for your customers.
All online transactions are secured in a particular way. Customers allow to do their transactions inside the payment gateway webpage without redirecting to another web pages. System is fully protected from hackers and other security threats.
You can have the ability to download the plugin from our website and you can setup it easily on your website.
If you like to have this cost effective eCommerce website solution, please contact us.
1.Install WordPress

2.Ensure you have the latest version of WooCommerce plugin installed

3.If you have already installed this plugin delete it before you add new plugin file.

4.Upload plugin zip file via wordpress admin panel or Unzip and upload contents of the plugin to your /wp-content/plugins/ directory

5.Activate the plugin through the 'Plugins' menu available in WordPress.

6.Enter payment gateway details in woocommerce->settings->checkout->SampathVishwaIPG

7.Make sure to Enable Sampath Vishwa IPG Module in woocommerce checkout tab.
1.

Featured above is the plugin page view containing the Sampah Vishwa IPG option. Make sure to activate this option from the available plugin page.
2.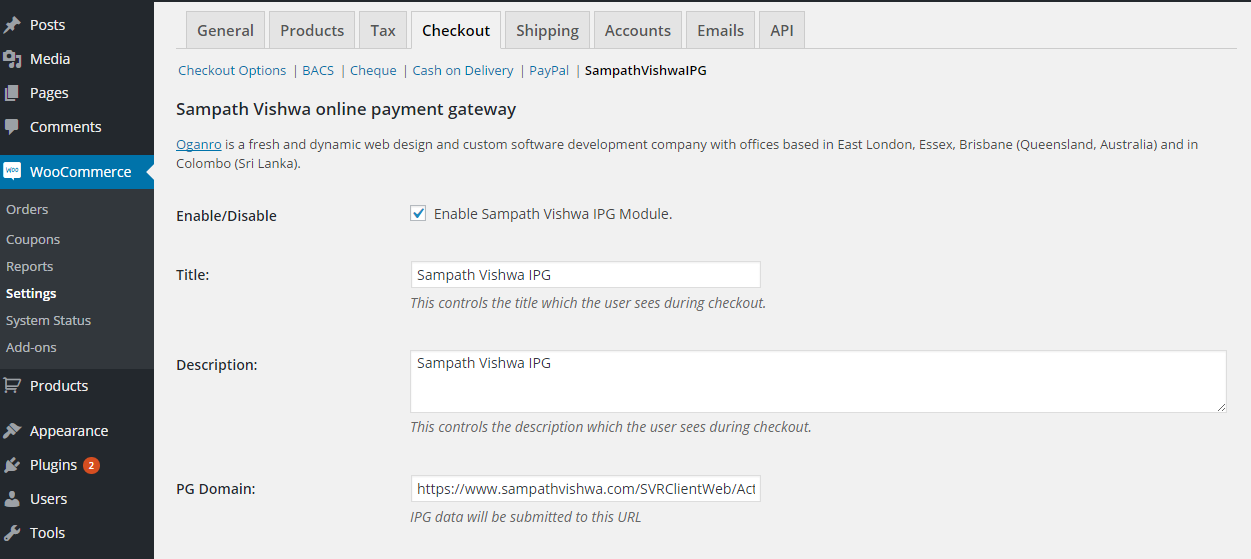 All relevant account information details are set in the above shown panel. provided by Sampath Bank.
3.

Displayed above are the Checkout Page payment options, inclusive of Sampath Vishwa IPG, offered to users for selection.