Restaurant Mobile Application Development
Takeaways & Restaurants Mobile Apps Development

Are you looking to development mobile application for your restaurant or takeaway? You are with right hands. We have in-depth experience in developing and designing mobile app for this industry. We will make sure to include best user experience and with features and functionalities to increase your market share and revenue.
Welcome to OGANRO – a leading provider of innovative & cutting-edge web solutions. We are a renowned provider of web, mobile and digital marketing solutions
Get your restaurant menu directly in customer pockets. Let customer place the order straight from their smart phone. Now there is no need to hand out menus and special offers via hand-outs to your clients. Very soon telephone orders through hand-outs will fade away.
INCREASE TAKEAWAY SALES WITH YOUR OWN FOOD ORDERING APP.
Every takeaway restaurant can now afford to have their own food ordering native apps without breaking their bank.
Increase takeaway revenue
It's time to harness the power of mobile technology to benefit your business and provide your customers what they want, the convenience of ordering and paying on their mobile phones. We'll design a beautiful app for your takeaway business which your customers can download free of charge. Don't get left behind. When it comes to business it can be costly to turn your back on new technology. The bottom line is that customers order more food and spend more money when they use a mobile app. Remember your competition may already be ahead of you. If you can't accept mobile orders you are missing a big opportunity. Every takeaway restaurant can now afford their own mobile food ordering apps.
Avoid costly mistakes
Let's face it telephone ordering can be a hit or miss affair. Customers become frustrated when they are misunderstood or if they cannot get through because the line is constantly busy. Revenue is lost, together with the reputation of the restaurant and any opportunity for repeat business. A food ordering app will give your restaurant an additional revenue stream with more accurate orders and less hassle.
Takeaway Mobile APP Project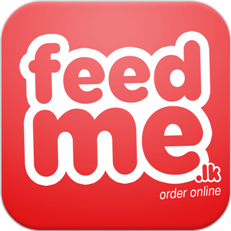 FeedMe.LK – Takeaway Order Colombo
Takeaway Software Application
Click above to learn more about our restaurant software application development Services
Stop paying commission
It makes sense paying commission to companies like Just-Eat and Hungry House when they find you new customers.However, paying commissions when your regular clients place orders through third party mobile apps is just money down the drain. We don't charge any commissions on your hard earned cash and you don't have to wait to get your money. Credit card payments go straight into your bank and if you prefer cash payments that's fine too.
It's so easy to profit
At the Mobile Food Ordering Company we want to make it simple for you to start making profits from your mobile ordering app. Simply fill out the form below and a member of our design team will contact you and arrange to get you up and running. Absolutely no computer skills are required. No sales people will call , there is no set up fee, no contract to sign and no fine print to catch you out.
Why have a

Smart Restaurant App ?
Nearly every customer has a smart phone, what better way to reach them?
Your Customers can order Takeaway from your App for collection or delivery.
Customers can view your complete menu with pictures and descriptions.
FREE Social media marketing when users tell their friends they like your food.
Send Offers and Promotions directly to your customers App.
Save time on taking telephone orders for both the customer and you.
Our Software Features
Day by day there is a massive increase in mobile restaurant ordering.
In built Food Ordering Feature
- App user can order food directly via app for Delivery, Collection or to Dine-in
Inbuilt check out methods
- PayPal, credit cards, cash on delivery or collection
Inbuilt Schedule & Book Functions or Table Reservation feature
- Ability create multiple products or services such as table reservation, special function reservation or special event reservation etc.
Loyalty and Point Based special offers
- Create your own special offers based on loyalty or points.
QR code special offer compatibility
- Create your own special offers based on loyalty or points.
Our Software Benefits
What are the key benefits and reasons why a restaurant need a mobile application ?
Single and multiple outlet capability
Menu and pricing management
Delivery charges by distance and postcode
Increase takeaway order values by up to 30%
Double the number of orders from loyal customers
Raise advance table bookings by 25%
Gain new customers through "invite a friend" feature on the app