GET A FREE TRAVEL WEBSITE DEVELOPMENT & TRAVEL PORTAL DEVELOPMENT QUOTE!
Grupo Transhotel

Hotel Supplier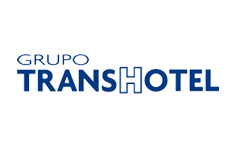 With more than 60,000 hotels in their network and 600 professionals to serve coupled with transfers, activities and tours in 1127 destinations throughout 147 countries, Grupo is one of the top travel wholesaler with whom more than 78,800 travel agencies have partnered with to serve their clients best. Grupo Transhotel offers the finest solutions for professionals within the tourism sector by constantly innovating and upgrading its' processes as well as technology. With 8 million daily availability searches, the organization makes it a priority to ensure an improved and highly efficient service in order to offer a high level of availability and quality, plus the guarantees of a market leader.
This hotel wholesaler has booking system called TOR System Advanced, that is user-friendly and comprises a robust search engine on the market, with two new ground-breaking tools to locate any point of interest on the map such as cinemas and restaurants and to start the booking process from the establishment chosen; as well as the facility to search in an effective and efficient manner by criteria like towns, category and the condition of the establishment etc to name a few. Using this technology, bookings are made through 3 steps within 2 minutes; whilst the confirmation and paperwork too being instantly available to handover to travel agencies' and tour operators' clientele.
Grupo Transhotel also provides a wider selection of activities and excursions at various destinations, which in-return provides tour operators and travel agencies the opportunity to offer a comprehensive service to their customers, which increases the value of the booking. Clients have the option of making the bookings for tours, activities and transfer – within the services module – either via independent reservations or through tailored packages, confirming all the services at once. One another notable facet is that, this hotel supplier offers a variety of tools accessible to promote clients' hotel and make the most of low occupancy seasons.