GET A FREE TRAVEL WEBSITE DEVELOPMENT & TRAVEL PORTAL DEVELOPMENT QUOTE!
Miki Travel

Wholesale & Tour Operator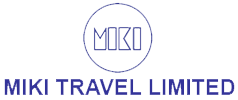 With travel products in 173 countries and hundreds of multilingual professionals worldwide, Miki Travel – founded in 1967 – is a world renowned wholesale travel provider. They cover a range of ground travel products and services comprising restaurants, hotels, coaches and excursions. In order to maintain long-term business relationships with their suppliers and clients, they continuously invest in the development of their staff, system and technology; thus enabling them to offer an outstanding customer service. Miki Travel offers suppliers with distribution channels to assist them maximize revenue with their global product reach. They also provide clients extensive inventory and competitive rates through their XML API products and via the expertise of the Sales offices worldwide.
Having affiliated field offices in numerous locations in Japan, Far East and Europe, Miki Travel is able to get rid of the inconvenience of negotiating pricing directly with hotels, by offering the finest products on the market with the most competitive pricing available. Miki Travel provides business users, many platforms for integrating their booking software into travel programs worldwide. With its differentiated inventory coupled with superb rates and its support for host to host interfacing, b2b sales and white label websites, Miki Travel will be the ideal inclusion on any travel agency's supplier portfolio.
With the assistance of their B2B XML API – through which they deliver competitive hotel rates and travel products – Miki Travel connects clients directly to wholesalers, retailers and travel suppliers that they partner with, thus boosting clients' exposure and empowering them to reach customers in newer markets. This is why Miki Travel focuses on augmenting its technology as it makes it feasible to offer effective and efficient inventory management solutions to thousands of hotel partners around the world, in order to enable their clients to compete in this vibrant industry.
As an experienced travel wholesaler who caters to customers looking for a low-budget tour as well as for those seeking VIP service, Miki Travel not only takes care of the operational process of their clients' tours, but at the same time provides professional guidance throughout; while simultaneously being discrete about these from the end passengers, which in return grants Miki Travel's clients the benefit to brand all itineraries as their own, but which are subject to Miki's booking terms and conditions.
Oganro offer great Travel Technology Solutions with Micky Travel, contact us to get more details.