Frequently Asked Questions by Clients When Asked to Develop an eCommerce Website

Welcome to OGANRO – a leading provider of innovative & cutting-edge web solutions. We are a renowned provider of web, mobile and digital marketing solutions

Simpy the 1st question most of the Sri Lankan or any client around the globe asked and expecting a honest answers. Just check our portfolio and you will be able to get an idea. Our work should give answer to your question.
What kind of Internet connection do I need for the Internet site?
You can have any type of Internet connection, it really is not dependent on the Internet Site – Broadband is better than dial up and the prices are cheap.
When a customer has finished shopping can I send an invoice confirmation receipt?
The invoice receipt is automatically sent via the ecommerce software.
Can I send an email a newsletter to all customers through an email address book with one command?
Email Newsletter mailing list is not part of the ecommerce software.
I would recommend an add-on to the website – £90 one-off payment.
Can I have a search box for the customer should they wish to search for items?
YES we provide a search box facility for the web site.
Can all credit cards be accepted? Ifs not please tell me which ones cannot be accepted and do you have pay pal?
YES all major Credit Cards can be accepted.
The ecommerce software integrates can integrate with a number of different payment systems e.g. paypal, protx, nochex, worldpay, google checkout, Barclays epdq – you can only choose one of these to use for the website

Can I have an advert banner in flash on the site?
The site does not come with Flash banners – you can get an external source to design a flash banner and we could add it to the web site.
As an alternative, we can incorporate rotating image banners to suit the purpose.
If a customer is shopping on the site and he/she would like to email the images and text to friend would this be possible so the friend can link back to my site?
There is an email to friend facility for the web site.
Can I have a printer friendly print out of the actual page?
This is not part of the ecommerce software, but we could look into incorporating it into the web site.
Can other sites have my banner or advertisement on their site and if the customer on that site clicks on my advert will they link into my site?
YES there is an affiliate program that comes with software.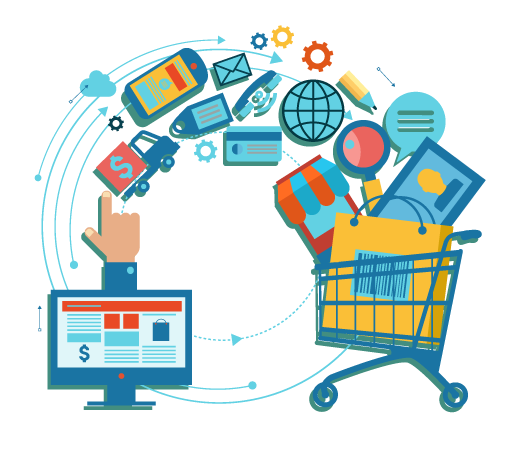 How many customer maxim can be on my site at any one time when shopping?
There is no limit as far as I am aware.
If an item comes in several different colours can I have a colour bar picker chart by the item?
Not a chart as such, but you can have a drop down box or option buttons showing the various product options.
Can I have a section by the item what percentage of materials it is made from e.g. 38% cotton 10% polyester?
You can create a category with these options and place products into this category.
What brands does the ship dropper stock?
The site does not stock any drop shippers – this will be entirely for you to choose and implement – there is a drop-shipping element within the software.
Has the website got any audio on it?
No sorry.
Could I have my site looking similar like Mark & Spencer, or Littlewoods lingerie web site?
Difficult to get a site looking 100% like the ones you have mentioned.
We can design something looking similar.
Can I get web traffic stats e.g. how many customers visited me in January and how customers visited me in March etc? How times the same customer visited me and how long did they spend on the site etc please give me a break down of all the traffic stats?
This will be down to you hosting company to provide.
Can I have voucher gift on my web site and how would this work?
YES there is voucher gift facility that comes with the software.
I would like to also to take orders from customer on the phone where customers can order over the phone. Do you have or know of any companies who can process these orders for my website?
Unfortunatly no.
Can your company help me with optimising my web site and marketing campaigns with Google etc?
We provide a search engine optimizing facility for the site.
We don't handle marketing campaigns.
Can I have a help page for customers on the site?
YES
How much MB space do I need if I have 5000 items on my web site? The lingerie site you are showing as an example can you tell me how many MB that is and how many pages does it have?
Try https://www.streamline.net they have an unlimited MB for under £50 for 2 year of hosting.
I have gone on to some web sites and found that the pages download very slow or bit-by-bit Will my site load its images and text quickly
YES we optimize all images before sending them to the hosting server.
Do I have to use your company to host my website or can I be free to choose another company to host it?
Yes
What will this site will cost me and does this include all designs layout and are there any extra charges that I need to know about.
Please get in touch with us to guide you and discuss about your eCommerce Website Development