Explore and Expand is the 10th step of your organic SEO approach. Once you come to this stage, we will be analyzing your current progress and will be targeting more competitive keywords and will be expanding your target market accordingly.
Explore New Opportunities

and Expand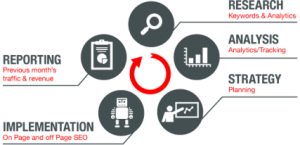 If you have launched and maintained a site following the previous nine commandments, expansion is a common-sense next step. You now have a high-ranking site that is mentioned in social networking forums, is supported by good back links and is regularly updated with new content. From here onwards, the way is only up, depending, of course, on the competition in your particular niche.
When your site has secured it top place on search engines, it's time to expand. This depends on your field: if you rank first for "Huston Wedding Photographer", consider broadening your reach also to "Huston Family Photographer". If you rank well for "Plumber near Market Street" you may now target "San Francisco Plummer". A high rank can leverage your business to an even higher stature.
Exceptionally popular sites may also expand towards advertising new releases in their field and reviewing products or books. An Organic SEO company will research and recommend the optimum paths through which to expand and grow your business. Below are listed posts on the tenth SEO commandment of expanding.