Online Food Ordering & Delivery Software Development in Sri Lanka

Welcome to OGANRO – a leading provider of innovative & cutting-edge web solutions. We are a renowned provider of web, mobile and digital marketing solutions
Does your restaurant or fast food organization spend a lot of time on the telephone taking orders for delivery and takeaway food? Oganro can help you to build your own Online Food Ordering system to streamline your whole food ordering and delivery process.
Having online takeaway ordering solution will help your customers to build their order online with ease. Our team of professional software developers & front end designers are fully capable of developing custom software to match your restaurant and to your specific need.
At Oganro we know a successful restaurant requires more than just tasty food. We can offer a complete restaurant order management and delivery management software with Click & Order windows that will have every menu item from your restaurant included. It includes a Comprehensive Administrative menu that allows you to update anything, whenever you want. It will also allow your customers to make special requests. Your customers can build a Order Form online from the convenience of their office or home. Once the order is completed restaurant owners or restaurant admin can receive clear and concise order confirmation via email, fax or as a text.
You don't have a restaurant website? No problem! You DO NOT need a website to use our service! However, if you would like your own website, we can design & develop one for you at a very reasonable price. Just call us for a quote.
Features
Below we have list down features which can make convenient and relaxing for users as well as for restaurant owners when making food orders for pick up or delivery!
If you would like to try the Admin Demo, just call us and we will assign an Administrative Email Address and Password for you. Then, you will be able to have state of Online Restaurant Order management systems and evaluate benefits and features easily.
Takeaway Mobile APP Project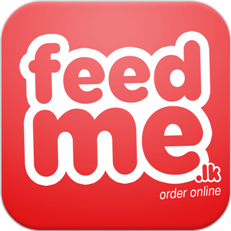 FeedMe.LK – Takeaway Order Colombo
Click above to learn more about our restaurant software application development Services
Below is a list of features & facilities what Restaurant owners will be having when using

Online Food Ordering Systems?
Administrative Features and Benefits:
Secure (SSL) Administrative Logon
Add, Edit and Delete Locations at any time up to the Plan Limit chosen
Add, Edit and Delete unlimited Food Categories at any time
Add, Edit and Delete unlimited Food Items at any time
Assign User Rights to Employees at any of your Locations
Apply Menu, P/U, Deliver, Store Hours, Holidays and FAQ to any or all Locations
Specify How long in advance an order must be placed
Option to Allow Pickup and Delivery for the next day
Validation that will only allow orders with appropriate date and time
Create your own FAQ, Daily Store Hours, Pickup Hours and Delivery Hours
Create your own Block Out Dates and Times
Option to specify a Minimum Order Amount for Delivery
Specify which Credit Cards you accept for Pickup and Delivery
Accept Credit Card info Online
Build your own Daily, Weekly, Monthly, Day of Week, Date Range Specials
Specify Category details that will relate to a specific group of Items
Create Loyalty programs as well as restaurant specific special offers.
Free Technical Support

Restaurant Owners
Add/Edit your Location(s)
Add/Edit Administrator(s) for your Location(s)
Add/Edit your own Categories/Sub Categories
Add/Edit your own Items
Add/Edit your own Specials
Add/Edit your own Daily Store Hours
Add/Edit your own Daily Pickup and/or Delivery Times
Add/Edit your own Frequently Asked Questions and Answers
Add/Edit Credit Cards Accepted for Pickup and/or Delivery
Add/Edit your Store Holidays and/or Vacation times
Online User Features and Features:
Secure (SSL) for all your Personal information
Click & Order Menu using secure checkout & Check Boxes for options – You're done!
Multiple payment options – Online Credit/Debit Card, PayPal, Cash On deliver or Cash On Pickup
One time registration and subsequent access will include their information
Link to select a location for restaurants with multiple locations
Drop down box to select Time for Pickup or Delivery
Click on Item Price to select your desired Food Item
Scrolling Text Area to enter Special Instructions for each Item ordered
Unlimited Items can be ordered
Preview and Edit the Total cost of your order incl. Taxes and Delivery charges
Obtain Loyalty points and access to various Restaurant special offers.