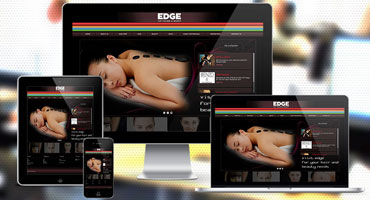 WHAT DOES 2014 BEAR FOR RESPONSIVE WEB DESIGNING STRADAS? IF YOU'RE AN ENTERPRISE OWNER, HERE'S WHAT YOU NEED TO BE VIGILANT OF.
You must be wondering what is responsive web designer term on all web design companies, With 2013 being labelled as the 'year of responsive web design', it's no surprise that so much buzz has been taking place among budding individuals who are oriented towards everything IT for acknowledging as to how this state-of-the-art approach for websites could actually transform the way in which the average internet surfer perceives his/her browsing sessions for the greater good!
Primarily dedicated to enhancing the look and use of websites over a host of varied gadgets that bear equally differing display dimensions, responsive web designing is one flagship strategy that is bound to advance all the more by the day. What's more, for those of us who are connoisseurs to the trend of relying on on-line traffic for running our businesses, this particular stratagem now deems indispensable to create an impression that can render us to stand apart from the rest of our competing counterparts.
Unlike the former system of creating a completely different website out of scratch for devices other than desktop computers, this de facto standard has now been replaced by the versatility of responsive web designing where a single website is seamlessly integrated into any gadget that is in active use today. While the cost, time and labour of implementing this technology to your currently functioning website are all probable impositions to one's ethics and budget, are the resultant benefits bound to outweigh its proportionate costs?
1) With responsive web designing, plagiarism will be a thing of the past.
With the latest practices that pertain to responsive web designing at your heels, gone will be the days of separately updating, amending and analysing the scores of all the websites in your arsenal. Conclusively, this shall help you to save a lot of time, energy and money for repeating one task many times over.
In addition, your content will be devoid of errors since web masters would only need to enter data once and validate the same. What with specialized analytical software that is able to monitor the progress of responsively designed websites over any platform imaginable, statistics that reveal how exactly your website is been utilized by the general public shall immensely aid in enhancing the stringency of your services, marketing, distribution and many other factors that pay prominent roles in your business accordingly as well.
2) In turn, quicker changes and lesser downtime shall aid in better SEO and page-ranking practices too.
With only one set of anchor texts required for constructing links, all websites shall be secured for harnessing more potency for its respective SEO purposes such as regular white-hat link-building sessions over forums and blogs. Better yet, algorithms that monitor ranking over most major search engines on-line prioritize on those websites that offer remarkably satisfactory interfaces and original, unique content. In due affiliation with the world's most recent technological breakthrough, your website is assured to be rewarded by search engines, undoubtedly.
3) Offline browsing shall also be possible, thanks to HTML5.
A programming language that is able to cater to browsing websites even when internet connectivity isn't present, HTML5 is now able to seamlessly integrate with other nuances of responsive web designing to deliver interfaces that are just as active offline; a massive breakthrough for attracting the attention of users regardless of circumstances over your content!
If ever any of your competitors haven't resorted to upgrading their websites the responsive way, your website is at an extreme advantage as potential clientele will now have unprecedented access to your content anywhere, any time.
4) An improved standard of customer relations, which could lead to increased sales.
There's no argument about the fact that a more inviting appeal is always something which potential customers tend to crave. If a website that is quick to load and simple to navigate is within our accessibility, it always leaves little notion of apprehensiveness to go ahead and purchase a product or service, now doesn't it?