SOFTWARE DEVELOPMENT IN SRI LANKA!
We Develop Custom Software Solutions

As part of our commitment to customer satisfaction, Oganro is focused on ensuring that all aspects of our projects meet our customer's requirements and expectations.
Welcome to OGANRO – a leading provider of innovative & cutting-edge web solutions. We are a renowned provider of web, mobile and digital marketing solutions
Our Software developers are specialized in
custom software development
Oganro is an experienced custom software development company based in Colombo, Sri Lanka. Having more than 8 years of experience in the field of software development together with affluent knowledge of the same for various industries globally, our project management capabilities are strengthened with our quality standards to ensure that we create premium customized software solutions that give businesses in Sri Lanka an edge over their competitors – both within the country and overseas.
Our solutions are oriented to cater to your main business objectives and we'll therefore make sure that we deliver nothing but the most satisfactory results to your organisation.
Is an intuitive range of business management software on your mind? You're at the right place, then!
Let's face it: an exclusive bespoke software application that has been designed with a client's best interests at heart is by far the most efficacious means of handling routine enterprise-related tasks, and that too sans any downtime. What's more, any form of customized software – be it a simple database management system or an intricate shopping cart platform is now renowned to be a worthy asset that is as keenly individualistic to its respective business services (and even its proprietor, as a matter of fact!)
Bespoke software is only an umbrella term. So to be specific, here are some of our mainstream software development services that we offer to all our clients, big or small: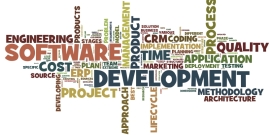 Having proven experience and expertise in mainstream software development, we provide a range of other development solutions too. Our web developers mainly use technology such as JAVA, .NET and PHP, and while each of these technologies have their own list of perks, we'll analyse your individual situation and therefore advise as to which technology will be appropriate for you.
SOFTWARE

MAINTENANCE

With our comprehensive software maintenance strategies, you can ensure that all your current software needs are met by receiving support for troubleshooting, modifications and updates. We'll even exclusively assign you one of our software developers for this purpose, too.
CLOUD

APPLICATION DEVELOPMENT

From cloud storage to eCommerce – and everything else in between. Implementing clouds over a network is a medium of storage for all forms of data. With the advancements of agile software development, incorporating a cloud storage system for your business is a speciality task that we would take pride in emphasizing on.
MOBILE

APP DEVELOPMENT

Literally everyone owns a smartphone now! As a responsible business owner, you'll be able to build stronger relationships with all those who reside in your customer base and secure sales, anytime and anywhere with a downloadable mobile app. In addition to responsive web designing, creating a mobile app that is compatible and convenient to use is the way forward, indeed!
DATABASE

DESIGNING

With database solutions that are tailor-made to suit the varied operations of your business, you can never go wrong when entering, updating and deleting pieces of information, unlike that of a generic spreadsheet. Herewith our database programming will help and guarantee that the latest in database technology is with you, with no hassle during use and maintenance.
WEB

PORTAL DEVELOPMENT

With web portal development, you can organize all your company's information in a structured manner, with options of displaying which details to show, and vice versa. For more information regarding this, please contact us now and we can guide you as to which web portal plan shall best suit the requirements for your business.
ERP

SOFTWARE DEVELOPMENT

Enterprise Resource Planning (ERP) systems or ERP applications are now advanced organisation information solutions that are easy to implement for any business, even on a customized basis. It is a solo window application where data from every department is collaborated into one, thereby enabling smooth amendments and/or updating without any repetitive entry processes.
SOFTWARE

TESTING AND QUALITY CONTROL

All our software applications undergo vigorous testing and quality control processes before they are signed off. In addition to that, we also possess a dedicated team of testing specialists who carry out tests for third party software and/or systems too. Therefore, we diligently commit to all forms of software testing in order to maintain a high standard of quality – without breaking the bank.
MANAGEMENT

INFORMATION SYSTEMS

Oganro undertakes the development of tailor-made Management Information Systems (MIS) for business organizations across various industries. This includes multi-user and/or multi-currency software systems including inventory management systems, along with sales and production integrations.

With MIS, business owners are now able to make better decisions for improving the efficiency and output of their end results. Contact us now to know how we can help your business transcend to the next level; we'll be glad to help you!
APPLICATION

DEVELOPMENT

While applications vary according to each business organization's needs, each requires meeting a few key objectives such as:
Increasing company revenue,
Reducing processing time,
Reducing overheads.
This will eventually benefit the client too as online processes will feel smoother and have an easier level of access. At Oganro, we'll develop a controlled web application for you by applying your organization's individual working logics in order to achieve all your goals, as mentioned above.
WORKFLOW

MANAGEMENT SOFTWARE

Workflow management software assists to gather a host of data sources into one comprehensive mode of reference. While any typical business consists of several departments, our workflow systems flexibly assist in merging required fields of information as per specific criteria; for example – The simple query for a sweet store to analyse and reveal which flavour of candy has been sold the most during a proposed time span.